Watch here for important events happening at Valley Mills Elementary School!
Please see information below regarding changes in the snow day make up dates, as well as changes to our Monday schedule.
---
Dear Parents:
The official snow make up days are scheduled for Monday, February 17 and Friday, May 23. For the rest of the year, Monday early dismissals will be discontinued. Dismissing at the same time Monday – Friday adds an additional 13 hours of instructional time to the school year and makes up for 2 snow days that would otherwise be added to the end of the school year in June.
Valley Mills Elementary missed 5 school days due to inclement weather. The State Department of Education granted a waiver for January 7 as Indianapolis was in a state of Snow Emergency. Earlier this week, State legislators passed a law allowing schools to add make up hours to their schedules instead of adding make up days to their school years. As six hours makes up for 1 school day, district leaders decided to dismiss at the same time Monday- Friday to account for two of our four required make up days.
Changing Monday dismissal will provide your children with valuable class time to prepare for their spring assessments. In addition, the district will save money in transportation costs by not having those additional two days in June
The district strives to make decisions in the best interest of your children's education. I hope that this change in schedule does not inconvenience you and your family. If you have additional questions about snow make up days, please do not hesitate to contact me. Thank you for your patience and cooperation as we get through this historic winter together.
Sincerely,
Sheila Corbin, Principal
Valley Mills Elementary
---
Register to vote by April 7 at your child's school or at www.indianavoters.com.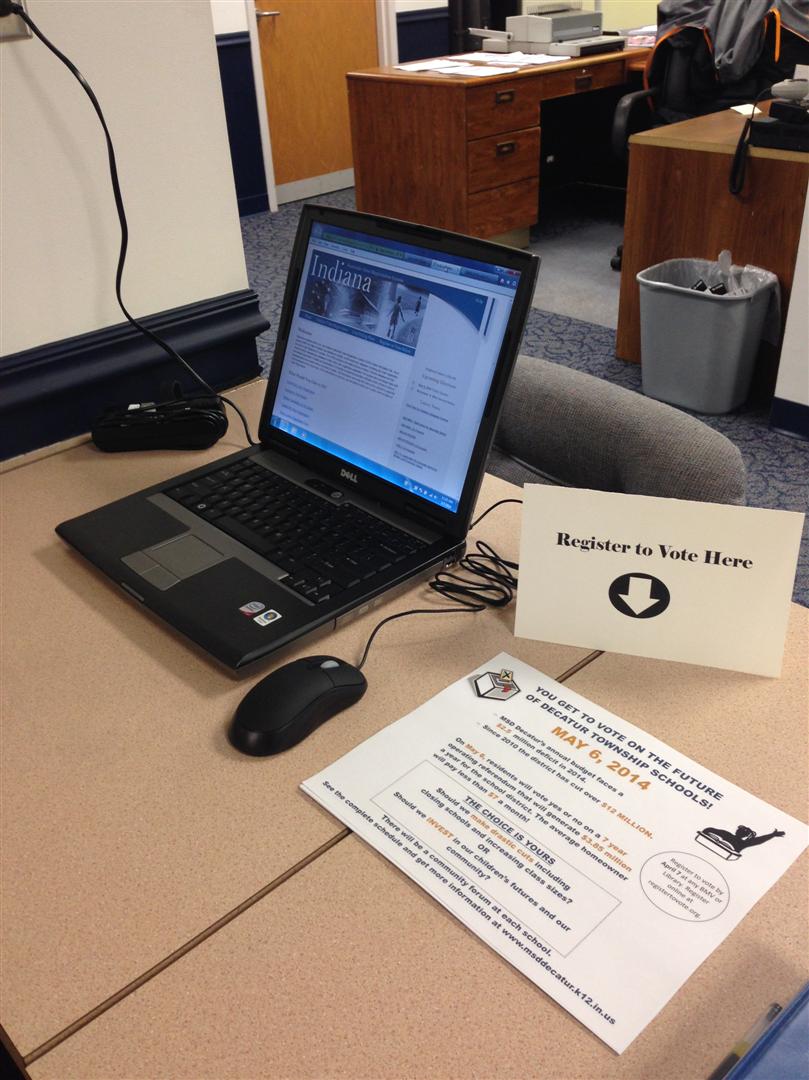 ---
Community Forum
A Conversation about district finances with
Superintendent Dr. Matt Prusiecki
When I became superintendent of Decatur Township Schools in August it was immediately clear we have some tough financial times ahead. It isn't because the district is spending more; it's because our revenues are going down.
Decatur has already made $12 million in budget cuts, but it isn't enough. If we don't make additional changes soon, we'll be out of money to run our buses unless we dig deeper into operating funds.
I invite you to join me for a forum where I will share with you how Decatur (like other Indiana school districts) got in this financial position. I'll answer your questions, and together we can discuss the options ahead.
Do we close more schools? Do we cut back on transportation? Do we make more staff reductions? Or do we ask for additional money?
These are your schools. Your children are most affected when budgets are tight. I want you to know the facts because ultimately, YOU will have a voice in the direction we take for the future.
Dr. Matt Prusiecki, Superintendent
MSD Decatur families and the general public are encouraged to attend any of the dates below.
March 13 - Stephen Decatur Elementary, 6:30 PM
March 17 - Decatur Middle School, 6:30 PM
---
Valley Mills classroom instruction is rapidly moving into the 21st century with new and exciting instructional stragegies being implemented throughout the school. As part of this movement, students will be engaging in the use of high-level technology.
We are happy to begin promoting our program and communicating what we're doing through the use of social media, such as Twitter, Facebook and You Tube. We'll use pictures and videos to showcase the amazing things occurring in our school and communitcate important information.
Please follow us at:
Facebook: https://www.facebook.com/pages/Valley-Mills-Vikings/351070555024033
Twitter: @VMVikes
---